Sant Dadu Dayal Ji (1544–1603) was a sant from Gujarat, India. "Dadu" means brother, and "Dayal" means "the compassionate one". Dadu Dayal ji Maharaj was an expert in several languages Hindi, Gujarati, Rajasthani etc. He wrote Shabad and Sakhi. His creation is romantic. Their posts on the issues of caste-related dismantling, Hindu-Muslim unity, etc. are heart-inspired rather than logic-driven.
SANT SHRI DADU DAYAL JI MAHARAJ
Sant Dadu Dayal Ji Maharaj was born Phalguni Sudi Ashtamee Thursday 1544 AD in Ahmedabad city of Gujarat state, India. It is said that a Brahmin named Lodhi Ram found a child flowing in the Sabrmati river. Even after middle age, Lodhi Ram Had no son whom he always craved. Lodhi Ram Nagar Brahmin raised Dadu.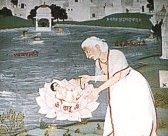 At the age of eleven years, God appeared to DADU as an elder and these old "Budhan" or old man is considered to be Dadu's guru. The mention of this is found in Janagopal's birthplace paper.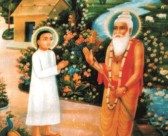 He was named "Dadu" because of his disposition to immediately give his favorite thing to charity. You were treasures of compassion, humility and compassion, due to forgiveness and contentment, you were called 'Dadal Dayal' and 'Dadu Dayal'.
Vikram No. In 1620, at the age of 11, Dadu left the house and left for satsang, only God became absorbed in contemplation. Departing from Ahmedabad, traveling through the Abu Mountains of Rajasthan, Tirtharaj Pushkar, went to Kardala Dham (District Jaipur) and meditated on the Lord continuously for 6 years. Sant Dadu Ji Vikram no. In 1625, Sambhar came here and he preached the true path, removing the distinction between man and man. After that Daduji Maharaj came to Amer, then all the people and kings there became his devotees.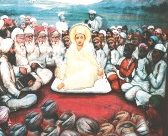 SHRI DADU DAYAL JI MAHARAJ
After that he also went to Fatehpur Sikri where Emperor Akbar appeared with great devotion and sentiment to receive Daduji's satsang and sermon and took sermons from Daduji for 40 consecutive days. Impressed by Dadaji's satsang, Akbar enforced the decree of cow slaughter throughout his empire.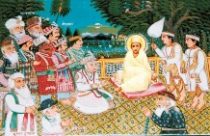 After that Daduji Maharaj came to Narana (District Jaipur) and he chose this city for cultivation, rest and dham and seated under a Khejde tree here and did austerity for a long time and even today, with the sight of the tree of Khejda, all three Types of heat are destroyed. It is here that he founded the Brahmadham "by Dadu", whose philosophy fulfills all the wishes even today. After that, Shri Daduji told all the saintly disciples the time to be his Brahmin.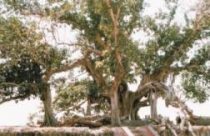 Dadu ji had 100 disciples that followed his teachings and attained salvation. He instructed an additional 52 disciples to set up ashrams, 'Thambas' around the region to spread the Lord's word. Dadu ji spent the latter years of his life in Narayana, a small distance away from the town of Dudu, near Jaipur city.Five thambas are considered sacred by the followers, namely, Narayana, Bhairanaji, Sambhar, Amer, and Karadala (Kalyanpura). Followers of these thambas then spread and set up other places of worship.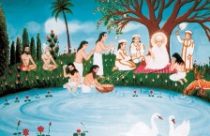 " DADU RAM – SATYA RAM "
Later in 1603, while departing from the world, Daduji instructed his disciples in Naraina as follows: "After my death, take my body to the Bhairon hill and then leave it there in its deep gorge. Hence, it will be known as our sanctum sanctorum and it will remain a place of worship for saints and sages for all times to come in future. " In the auspicious time of day (Jyasht Krishna Ashtami Samvat 1660) to be Brahmalin, Shree Daduji, while meditating in solitude, chanted the word "Satya Ram" and departed from this world to Brahmlok.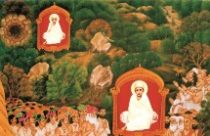 According to the legend and tradition, the palanquin also disappeared and only some flowers were left there. The devotees had to remain contented with performing the last rites with those flowers at that site where now stands a large memorial, which is sacred to the Dadu-panthis. The "Dadu Panth" and "Dadu Peeth", founded by Shri Dadu Dayal Ji Maharaj, are still uninterrupted in the service of human beings. Presently Acharya Mahant Shri Gopaldas Ji Maharaj is sitting as Pithadhishwar of Dadudham.
Dadu's compositions were recorded by his disciple Rajjab and are known as the Dadu Anubhav Vaani, a compilation of 5,000 verses. Another disciple, Janagopal, wrote the earliest biography of Dadu. Presently, a grand fair is organized every year at Narena Dham on Falgun Shukla Ashtami.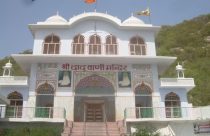 Dadu Ji Dayal Ram,

Sharan Tumhari Ram Mala Pheroon Thari Ram,

Sahay Karjyo Mhari Ram Lajja Rakho Mhari Ram,

Tu hi Baba Daduram Shesh Baba Satyaram,

Satyaram Saware Kaam Bahar bhitr Aatam Ram,

Puran Kaam Hai Daduram Aatam Ram Se Lagi Lagan,

Manwa Rehta Tabhi Magan…

"Daduram – Satyaram"
If you have any query regarding " Sant Shri Dadu Dayal Ji " then please tell us via below comment box… .
Daduram Satyaram – Daduram Satyaram – Daduram Satyaram
Send Query –