Know these 5 things before investing in property
Know these 5 things before investing in property: Getting a property from the point of view of investment is as easy as it is. People often make mistakes while investing in real estate to earn a profit. Due to this, they do not get the expected returns. In many cases, there is a loss. For this to happen, it is important to focus on some things. Come, let's get to know about them here.
Investing in Property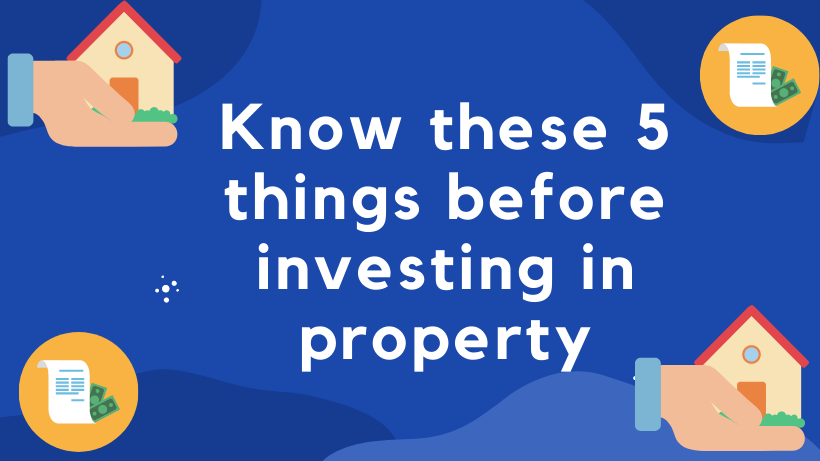 Know your credit score
If you apply for a loan to buy a property, then the banks check your credit history. In case of any problem in the credit history, the loan application can be rejected or it can be accepted at higher interest rates. The best loan offer is often for those with a credit score of 750 or more. They get the benefit of the lowest rates. Therefore, it is important to check your credit score online before applying for a loan. It takes a few minutes.
Take out the full cost of real estate investment
When you invest in real estate, you should deduct the entire cost of it. For example additional charges like GST, registration, stamp duty, brokerage, furnishing, borrowing cost etc. at the base price of Rs 100 increase the entire bill to Rs 120-130. Experts say that in an under-construction property, you have to pay 5 per cent GST and 5-7 registration and stamp duty. It depends on the rules of the states. Home furnishing may take another 5 percent. In this way, the price increases by 15 percent more than the base price. This means that if the cost of the house is 1 crore rupees, then you will have to spend 15 lakh rupees more as additional cost.
Don't buy in a hurry
Experts say that at least 10 properties should be found before making any purchase decision. There should not be any hurry in this. A Property broker can also buy inappropriate property to make a commission.
JDA Approved Plots In Jaipur
Please check the below links JDA Approved Plots in Jaipur City.
Do research and homework
Time has to be given to buy a good property. Fafi investigation is required for this. Apart from price and location, space should also be kept in mind while shopping. Whether the infrastructure of the area will improve, there is no litigation on the property or any other legal hurdle will have to be faced, it is necessary to take all these questions.
Compare to other types of asset classes
If you are thinking of buying property only as an investment, then financial instruments such as mutual funds, small savings, or equity are cheaper options. In real estate, where maintenance cost and property tax have to be paid. At the same time, the cost of maintaining investment in other instruments is very modest. For example, in the case of mutual funds, the expense ratio and in the case of shares, nominal Demat fees, brokerage, etc. have to be paid. If you need money, you can redeem the financial investment little by little. At the same time, there is no such facility with the property.